Your aged loved one deserves the best of both worlds with any caregiving company. First, caregivers that view senior care as a calling, not just a job. And second, a user-friendly technology infrastructure that unites caregivers, families, and seniors in one leading-edge platform.
Introducing the Omatochi Family App. When you can't be there, we can, with both human and high-tech support at no cost to you and any family member that wants to be connected.
Why Choose the Omatochi Family App for your Family?
The app is essential, especially if you live away from an aged loved one. It's the best way to keep in touch with all their healthcare needs as well as our caregiver activities with them.
Of course, even if geography isn't an issue, our Family App gives you both peace of mind and convenient updates right at your fingertips.
The Family App keeps family members connected whether they're just down the block, out of state, or even out of the country. Family members can access information on upcoming schedules, the caregiver team, medications, invoices, and even pay or split a portion of the bill.
What's more, you can add to-do items and see which caregivers are coming into the home. Here's a sample of everything you can do with our app
The Omatochi Family App provides it all with a touch of the screen.
· Daily and Weekly Care Reports
· Safety and Health Monitoring (vitals, recent medical tests, and more)
· Medication management: family members can easily monitor prescriptions and dosage, so everyone is on the same page

· Calendar and Social Activities
· Text, voice & video chat capabilities between all (family members, seniors, caregivers)

· Ability to rate and review caregivers

· Medical Team Contact Information (physician's name and phone number, preferred pharmacy, dentist information, and more)
· Omatochi Care Team Contact Information (care team phone number, email)
The Omatochi Family App is the ideal vehicle to provide 24/7 updates on your aged loved one. To get started, download the Omatochi Family App below. If you have an Apple device, download it from the App Store. For Android users, download via Google Play.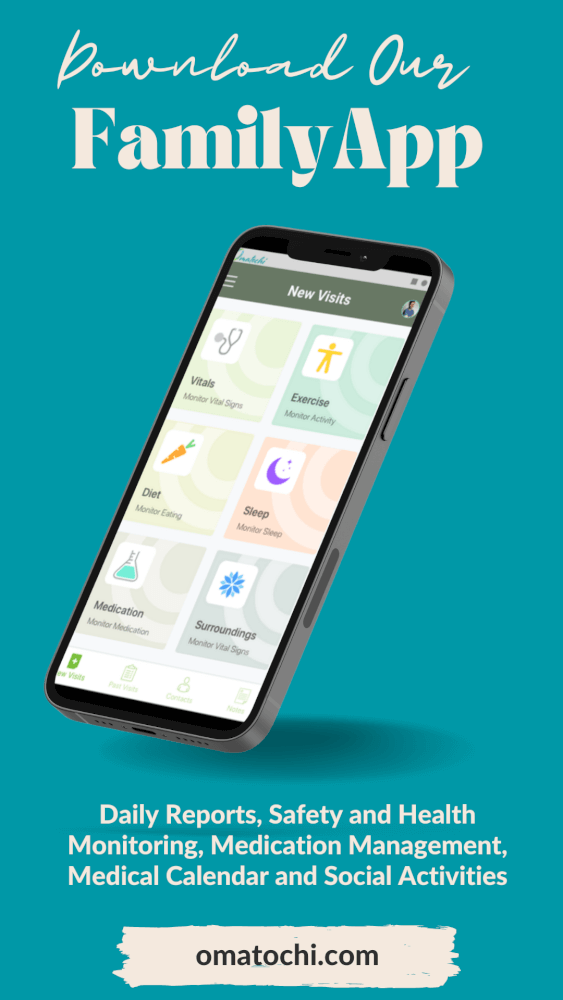 Download on the App Store
Don't wait! Get answers with a FREE phone consultation!