Omatochi Unveils Virtual Care Plan: Empowering Aging Adults to Thrive
Omatochi is thrilled to announce the launch of its groundbreaking Virtual Care Plan, a revolutionary service addressing the daily challenges aging adults face. This thoughtfully curated plan is designed to combat social isolation, provide quality companionship, and support seniors in various aspects of their lives.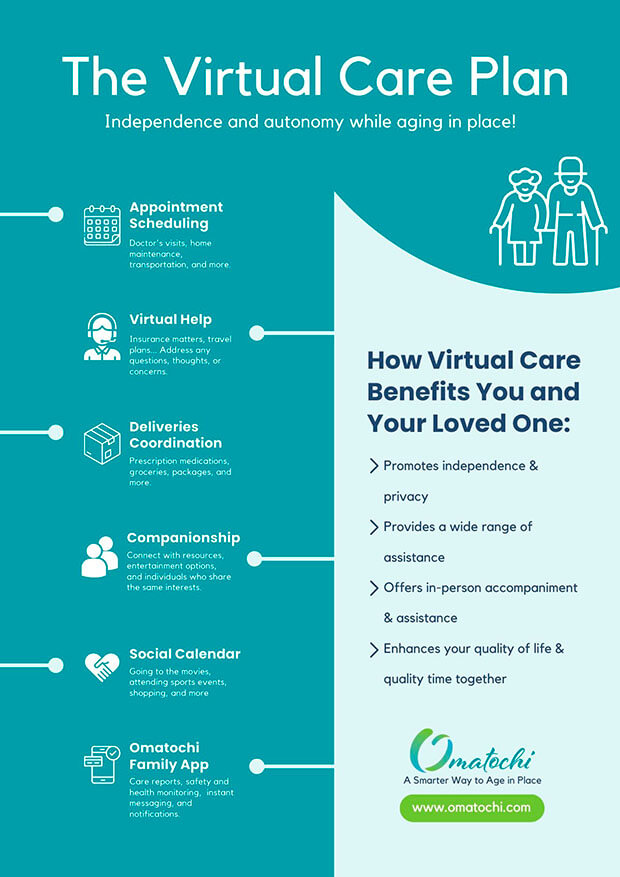 Understanding Seniors' Unique Needs
Our Virtual Care Plan addresses the challenges that aging adults often encounter. From navigating insurance matters and travel plans to maintaining an independent and high-quality lifestyle and keeping up with doctor's appointments – we've carefully crafted this service to provide comprehensive solutions. 
A Comprehensive Approach to Senior Care
By combining remote tech-based virtual care with in-person assistance, we deliver a holistic approach to senior care. Through tech-enhanced virtual companionship, entertaining content, and social connections, we help seniors beat loneliness and stay socially engaged. Our dedicated Care assistants excel in appointment scheduling, ensuring timely access to essential services like doctor visits, home maintenance, transportation, and timely deliveries of prescription medications, groceries, and packages. 
Fostering Independence and Privacy
We understand the importance of independence and privacy for aging adults. With our Virtual Care Plan, we strike the perfect balance, providing the highest quality of assistance while respecting the dignity and privacy of our clients. Our user-friendly devices keep seniors connected to their care circle, eliminating feelings of loneliness while ensuring they remain independent. 
Unparalleled Family Care Advisors (FCAs)
Our dedicated team of Family Care Advisors (FCAs) plays a vital role in ensuring seamless communication between aging loved ones, families, and healthcare providers. With their expert guidance and regular assessments, FCAs alleviate the stress of coordinating care for your loved ones. They focus on the unique needs of each individual, recommending personalized care decisions that enhance their overall lifestyle. 
Who Can Benefit from the Omatochi Virtual Care Plan?
The Omatochi Virtual Care Plan is ideal for aging adults who may face new challenges as they enter their golden years but can still live independently. Whether adapting to new technologies or managing everyday tasks at home, our Virtual Care Plan offers tailored assistance while respecting their privacy and independence. Family members can rest assured that their loved ones are well-cared for and can quickly check in on them at any time. 
Embrace a New Era of Senior Care
Omatochi's Virtual Care Plan empowers aging adults to thrive, providing comprehensive support for a fulfilling and enriched lifestyle. Say goodbye to social isolation and welcome a renewed sense of independence and connection. Join us today and unlock the potential of Virtual Care for your loved ones. 
For more information about the Omatochi Virtual Care Plan click here or contact us at hello@omatochi.com.